Whether you are planning a wedding, booking a trade show, or simply looking for a facility for a meeting, the Clackamas County Fairgrounds and Event Center has multiple spaces to meet your needs. Our various facilities can accommodate groups of all sizes.
Rental prices can vary depending on the day/hours of use and type of event.
Weekends (Friday-Sunday) are full price.
Weekdays or shortened hours (4 hours or less for the entire rental) can be at a reduced price. 
Your rental time should include your set-up, event, and clean-up time.
Main Floor & Kitchen Annex Price varies per event
Second Floor rents with main floor rental only
The Main Pavilion is our largest indoor facility, measuring over 7,000 square feet. The building is used frequently for trade shows, banquets, receptions, fundraisers, and weddings. The Main Pavilion has a separate kitchen for food preparation and service. The unique tile floor is excellent for dancing. 
Rental Includes: 
65 – 8′ banquet tables
272 metal chairs
Main Floor:
Seated: 531
Kitchen Annex:
Seated: 241
Second Floor:
Seated: 595
Clackamas Hall, measuring 1600 square feet, is excellent for meetings and small parties. The Open Beam ceiling and multiple windows create a bright and airy atmosphere with lots of natural light. A newly remodeled kitchen is complete with refrigerator and oven and plenty of counter space.
Rental Includes:
10 round tables
4- 8′ banquet tables
104 white chairs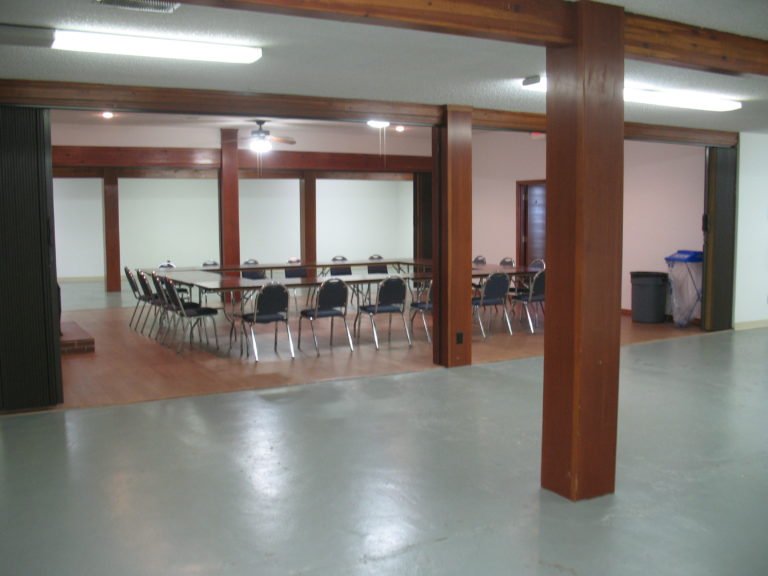 Horning Hall is 2,900 square feet and measures 134 feet long and 70 feet wide. It is excellent for receptions of 50 to 150 people. It features a large enclosed kitchen, the center room has a fireplace and the room dividers can be opened or closed to accommodate the size of your event.
Rental Includes:
35 – 8′ banquet tables
132 chairs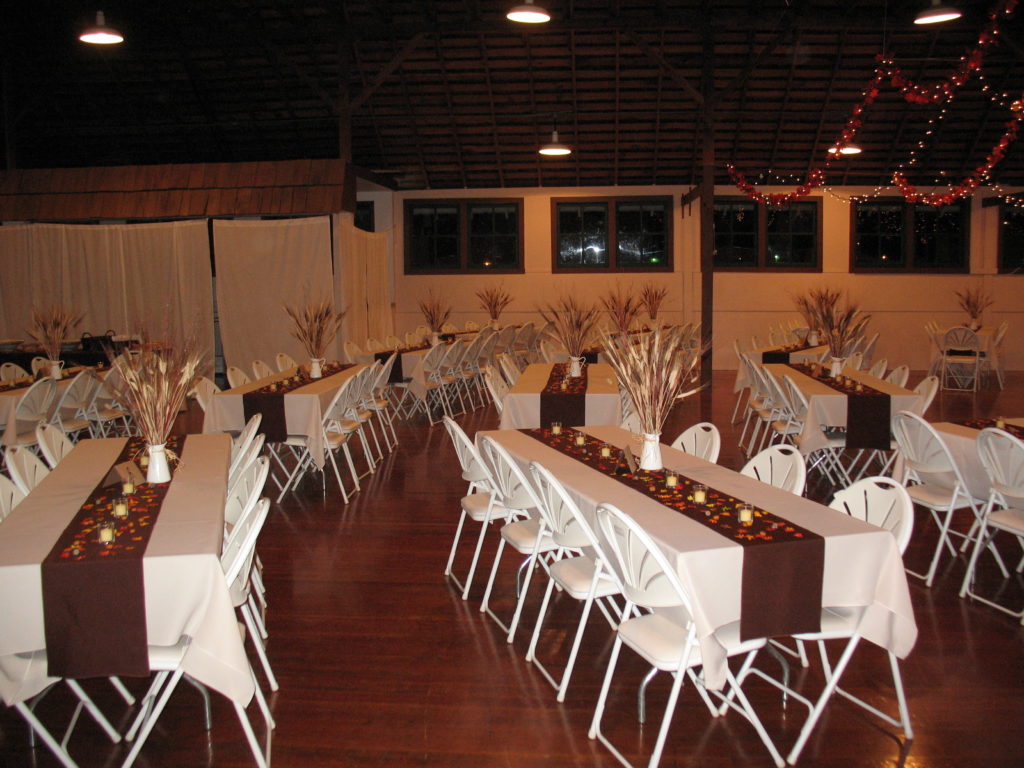 At 5,000 square feet, the 4-H Exhibit Hall is perfect for weddings and receptions of 100 to 250 guests. It features an excellent kitchen with four oven/ranges, two refrigerators and three sinks. The beautiful hardwood floor makes an excellent dance floor. This building is often rented for wedding ceremonies and receptions.
Rental Includes:
42 – 8′ banquet tables
200 white chairs
The Main Lawn Complex offers a small meeting room, with a single bathroom, which is ideal for groups of up to 20 people.
This building can also be rented for additional restrooms with rental of other buildings. It has bathrooms on both sides with approximately 6-8 stalls each.
Rental Includes:
8 – 8′ banquet tables
16 chairs
Starts at $850 per day
Packing the ground for rental is $150 extra
Ely Arena is an indoor arena 90ft wide by 210ft long. There is bleacher seating, as well as restrooms, and covered areas for horses to stand without being in the arena. The arena has lighting and an announcer's booth (with PA system) available as well. The footing is nice soil that can be groomed or packed for your event as needed, and is excellent footing for gaming. 
Rental Includes:
8 – 8′ banquet tables
Bleachers for seating
The Carnival Lot is a grassy area that measures 290 feet by 345 feet. It is the perfect outdoor location for company picnics, carnivals, swap meets and more. This space is fenced in on 3 sides and has blacktop parking right next to the front side.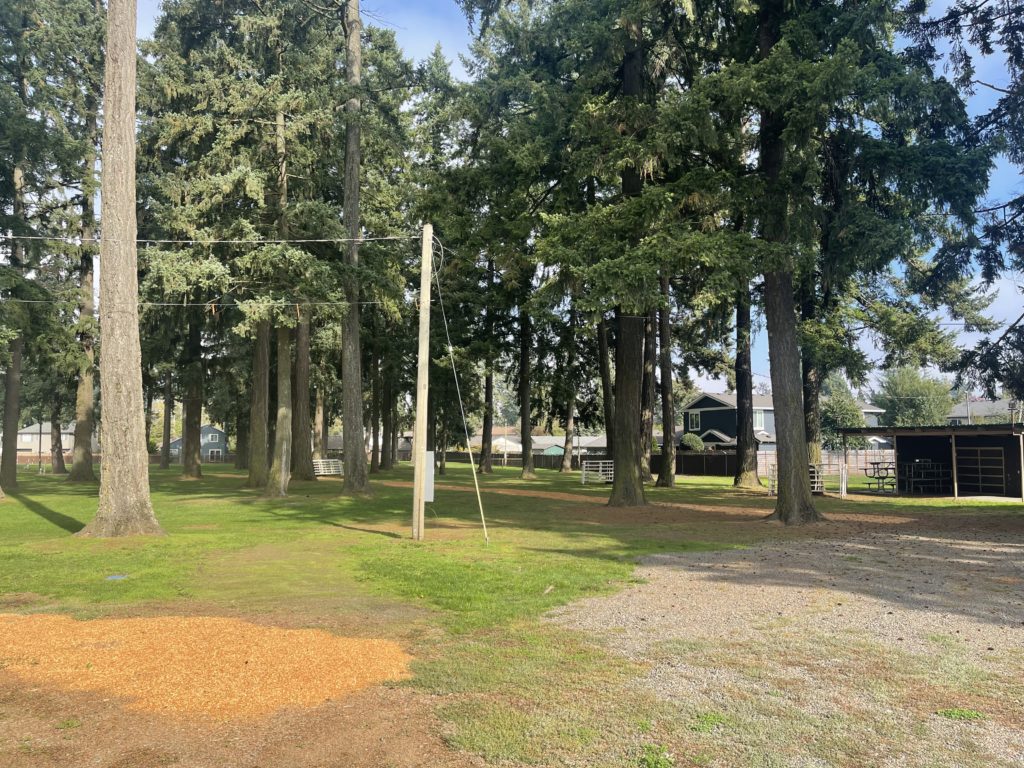 The Fir Grove is the best shaded area on the whole fairgrounds. It has tons of trees to block the summer sun or provide a bit of shelter from rain during the other seasons. Located in this area is a BBQ Hut that measures 75 feet deep by 105 feet wide. It works great to provide shelter for food during a company picnic or any other type of event.
Fir Grove is located on the backside of Ely Arena so it can be a great place to hangout between horse events that are happening inside the arena.
Round Tables
Picnic Tables
6′ Banquet Tables
White Padded Chairs
Blue Padded Chairs
Bleachers
Benches
PA System
Stage 8'x8′
Stage 16'x16′
Podium
Screen & Projector
Lattice Panels (wooden or plastic)
Livestock Panels (assortment of sizes)